ETC NOMAD
5 - 10 week estimated lead time. 

Please note that new orders will placed be on back order and dispatched as soon as stock becomes available. Unfortunately we are not able to guarantee a delivery date. 
ETCnomad
Lighting control wherever you want to go!
Available as a base unit with 1024 outputs or unlocked to full 6144 outputs.

4380A1011 1024 OUTPUTS

4380A1011 & 4380A0064 INITIAL UPGRADE TO UNLOCKED ( 6144 CHANNELS )


Maximum outputs is 6,144

 


ETCnomad
Hopping from gig to gig and can't bring your console with you? Doing the lighting in a venue whose desk has seen better days? That's where ETCnomad™ control comes in. Small enough to fit on your keychain, ETCnomad plugs into your computer and opens up the power of Eos® family software, so you can program and run shows anywhere.
It can serve as a primary controller, a backup or a client device - or work offline entirely - operating on either a PC platform running Microsoft Windows® 7 or higher or natively on a Mac running El Capitan (v10.11) or later.
ETCnomad is available at either base 1024 or unlocked to 6144 outputs.
Note that without the key, the software functions in offline or mirror mode. The ETCnomad key is upgradeable to reach maximum capacity.
Ti speaks your language. It supports localization, so you can work in English, German, French, Spanish, Italian, Japanese, Korean, Russian or Chinese (Simplified and Traditional).
With Ti, powerful doesn't have to be difficult.
Compatibility
Supported protocols include Net3/ACN/sACN and ArtNet
DMX/RDM Gateways (Net3)
Show Control Gateway
I/O Gateway
Eos Programming Wing
Eos Motorized Fader Wing 10 or 20
Eos Fader Wing 20 or 40
ETC Gadget II USB-to-DMX/RDM converter (up to four may be connected for a total of four local outputs)
iRFR, iRFR Preview and aRFR
ETCpad (ETC Portable Access Device)
Third-party USB-MIDI panels via Direct MIDI
When you use it as a primary or backup, the system output is determined by the device with the lowest output configuration. When it's connected as a client, the output capacity of ETCnomad is ignored.  
NOTE:
ETCnomad is also compatible with Cobalt.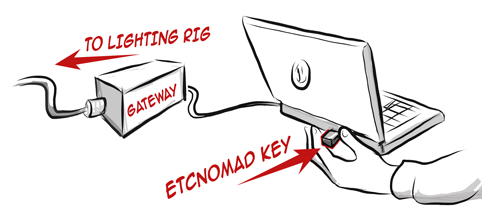 ---
Other items you might like
---